RockHers: Tegan and Sara
Album: The Con
Label: Sire Records
Artist Link: www.teganandsara.com
Listen: www.myspace.com/teganandsara
*Buy The Con Here*
"Nobody likes to but I really like to cry," sings Tegan, one half of Canada's most awesomest musical duo Tegan & Sara, on The Con, the title track off their 5th studio album The Con.
And having toured with some of musics most well received artists–Neil Young, The Killers–selling out shows on their current tour well in advance, and creating a tremendous buzz on the indie front, the 26-year old singing/songwriting/musicians certainly aren't crying about their career. Instead, they choose to shed their tears over a far more universal topic.
The Con focuses on the ol' love and loss tale of young heartbreak remixed in a fresh way with plenty of catchy hooks that'll take your pain away.
The Con's accompanying lyrics booklet reads similarly like the passages in a novel found in the young adult section of Barnes & Nobel, with the metaphoric intention that when one chapter (or track) closes, another similarly painful chapter opens.
Despite the teenage angst, most of The Con's chapters are pumped with up-tempo beats, and jump faster into verse than a new couple moving from first base to third; each of it's fourteen chapters squeezed into an album shorter than an episode of Gossip Girls –with no commercials, of course.
The tempo and vocals may sound playfully upbeat, but the lyrics are dark, deep, sometime melancholy. Like in Knife Going In about the passing of the girls' grandmother passing, which Sara talks about again in Burn Your Life Down, and the heavy synth sounds of Are You Ten Years Ago.
Even the albums most cheerful sounding track Back In Your Head started off as "quite slow and sparse when I first wrote it," said Sara. "Chris (Walla) had me speed it up dramatically."
Yep, that's the same Chris Walla from Death Cab For Cutie who helped co-produce the album with Tegan & Sara. The girls also grabbed Death Cab drummer Jason McGerr, Kaki King, Hunter from AFI, and Matt Sharp of The Rentals to contribute. But enough of the jibber jabber, let's cut to the chase-
RockHer's Bottom Line is this: The Con by Tegan & Sara is one of, if not, the BEST album of 2007 and perhaps their best in a five-album span.
The Con by Tegan and Sara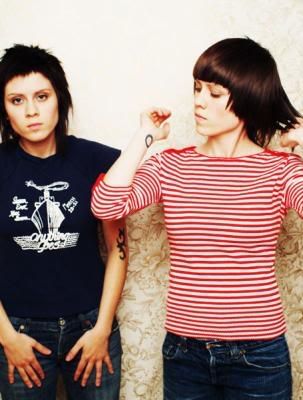 Buy The Con Here
Chapters
I Was Married
Relief Next To Me
The Con
Knife Going In
Are You Ten Years Ago
Back In Your Head
Hop A Plane
Soil, Soil
Burn Your Life Down
Nineteen
Floorplan
Like O, Like H
Dark Come Soon
Call It Off