Artist: Tori Amos
Album: American Doll Posse
Label: Sony
Official Tori Site: www.ToriAmos.com
Buy: American Doll Posse
Tori, Pip, Isabel, Clyde, and Santa, the 5 women Tori Amos dubs her "American Doll Posse," combine their individual message and musical sounds to Tori's 9th full-length studio album American Doll Posse. Note: all 5 women are, in fact, Tori herself, but she chose to creatively expose her inner split-personality desires –the desire that lies inside most women to be someone we're not normally known for– to add another 23 tracks to her ever-expanding catalog of music. Each woman has their own set of songs, their own identity, and even their own blog, as Tori gleefully peddles the piano and Bosendorfer on each of her Posse's tracks.
For the Die-Hard Tori Fans — Don't be alarmed by her first Country Western single 'Big Wheel.' Tori did NOT switch genres, the rest of American Doll Posse sounds completely and totally Tori, and she isn't scheduled to perform at the Country Music Awards any time soon. She' still just plain ol' blatant and political Tori, this best exemplified on her track"Yo George," which she chants:
Yo George
Is this just the Madness
Of King George,
Yo George
Well you have the whole nation
On all fours
American Doll Posse is available in regular CD format of Deluxe Limited Edition which includes one bonus track My Posse Can Do, bonus DVD, 5 collectible postcards, a full color 36 page booklet.
If you've been a fan since the Little Earthquakes years, American Doll Posse is a wise investment to the Tori collection. American Doll Posse will broaden your frame of reference from what an album was, to what an album could be, as well as tickle your theatrical side and expand your expectations from artists to follow.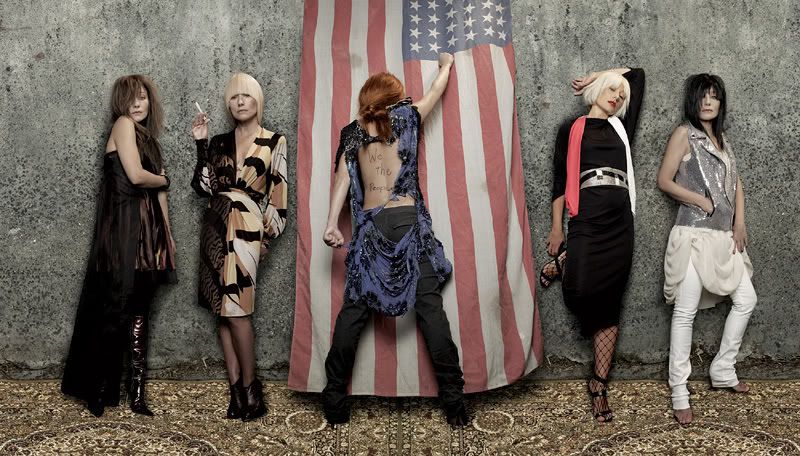 TRACK LISTINGS:
Yo George (Isabel)
Big Wheel* (Tori)
Bouncing Off Clouds* (Clyde)…Classic Tori
Teenage Hustling* (Pip)
Digital Ghost (Tori)
You Can Bring Your Dog (Santa)
Mr. Bad Man (Isabel)
Fat Slut (Pip)
Girl Disappearing (Clyde)
Secret Spell (Santa)
Devils and Gods (Isabel)
Body and Soul (Pip & Santa)
Father's Son (Tori)
Programmable Soda (Santa)
Code Red (Tori)
Roosterspur Bridge* (Clyde)
Beauty of Speed (Clyde)
Almost Rosey (Isabel)
Velvet Revolution (Pip)
Dark Side of the Sun (Isabel)
Posse Bonus (Tori)
Smokey Joe (Pip)
Dragon (Santa)
* We love these songs*