Below, we've compiled a list of schools, camps, and workshops for women, ladies, girls, gals, female gendered human beings, what have you, to obtain a fantastic music education.
The non-profit Rock'n'Roll Camp for Girls promises to "build girls self-esteem through music creation and performance. Providing workshops and technical training, they create leadership opportunities, cultivate a supportive community of peers and mentors, and encourage social change and the development of life skills."
They host a number of camps throughout the year for girls aged 6-18, and also host Ladies Rock Camp for those 19 and older to help raise funds for the Rock'n"Roll Camp for Girls. Make sure to check their website for full info on each participating camp.
The following Rock'n'Roll Camp for Girls are all members of the Girls Rock Camp Alliance, an organization that bridges several girl rock camps throughout the world. Their shared mission is to "empower girls and women using the tools of music education to foster self-esteem and confidence."
Participating Organizations
Rock 'n' Roll Camp for Girls (original camp)
Portland, OR
girlsrockcamp.org
camp@girlsrockcamp.org
Girls Rock! DC
Washington D.C.
girlsrockdc.org
info@girlsrockdc.org
Girls Rock Philly
Philadelphia, PA
girlsrockphilly.org
info@girlsrockphilly.org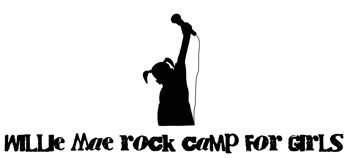 Willie Mae Rock Camp for Girls
Brooklyn, NY
williemaerockcamp.org
info@williemaerockcamp.org
Popkollo
Sweden
popkollo.se
popkollo@rockparty.se
Southern Girls Rock & Roll Camp
Murfreesboro, TN
sgrrc.org
sgrrc05@gmail.com (that's a zero)
Girls Rock Chicago
Chicago, IL
girlsrockchicago.org
Girls Rock Camp Austin
Austin, TX
girlsrockcampaustin.org
Director@girlsrockcampaustin.org
Girls Rock! UK
London, England
girlsrockcampuk@gmail.com
Bay Area Girls Rock Camp
Oakland, CA
bayareagirlsrockcamp.org
info@bayareagirlsrockcamp.org
Girls Rock Camp ATL
Atlanta, GA
girlsrockcampatl.org
camp@girlsrockcampatl.org
Girlz Rhythm n Rock Camp
Columbus, OH
girlzrhythmnrockcamp.com

Girls Rock NC
Durham, NC
girlsrocknc.org
Other Rock Camps/Music Programs

Peterborough Rock Camp for Girls
Peterborough, Ontario
rc4gpeterborough.com
rc4g@sympatico.ca
Girl Power Guitar School
Austin, TX
girlpowerguitarschool.com
info@girlpowerguitarschool.com
Old Town School of Folk Music
Chicago, IL
For over 50 years, what has set the Old Town School of Folk Music apart from other music teaching programs has been the philosophy that music is for everyone. Young and old, beginners and advanced players, people from various cultures and traditions come together to create music and learn from each other.
Women's Audio Mission
San Francisco, CA
womensaudiomission.org
WAM is a non-profit organization dedicated to the advancement of women in music production and the recording arts. In a field where women are chronically under-represented (less than 5%), WAM seeks to "change the face of sound" by providing hands-on training, experience, career counseling and job placement to women and girls in media technology for music, radio, film, television and the internet.
Online Audio School
audiocourses.com
Learn basic audio recording, production mixing and mastering, music technology, podcasting, and more online at AudioCourses.com
COLLEGE AND UNIVERSITY PROGRAMS
Musicians Institute
Hollywood, CA
mi.edu
Musicians Institute offers a comprehensive, hands-on education in contemporary music performance, recording, guitar making, music business and film. Study bass, guitar, keyboards, durms, and vocals while earning a Bachelor of Music in Performance, Associate of Arts in Performance, Certificate in Performance, or Non-Certificate Training in Music.
Alverno College
Milwaukee, WI
Alverno College is a four-year independent liberal arts Catholic college for women, offering degrees in Music and Music Therapy.
Barnard College
New York, NY
barnard.columbia.edu/music
Barnard is a four-year liberal arts college for women founded in 1889 offering music majors through the Barnard-Columbia partnership. Students on both campuses choose from a wide array of courses and academic resources and take part in a great variety of student organizations.
Meredith College
Raleigh, NC
meredith.edu/music
Chartered in 1891, Meredith College has grown to become one of the largest independent private women's colleges in the country. Women may choose to focus their major or minor on performance, music history, theory, ethnomusicology, or composition.
Peace College
Religh, NC
peace.edu
As a music performance major at Peace College, you will take foundation courses in applied music, music theory, and music history, learn to record, edit, master, and produce your own compact discs. Students will also take classes that focus on copyright and contract law, marketing and the advancement of your own musical career.
Wellesley College
Wellesley, MA
wellesley.edu
The Wellesley Collge Music Department provides an ideal educational environment for students who seek to combine serious musical study with the depth and richness of a liberal arts curriculum, because it offers both a highly regarded academic program and a wide range of outstanding performance opportunities.
Converse College
Petrie School of Music
Spartanburg, SC
converse.edu
Performing, teaching, learning, composing, and conducting are the true passions of the Petrie students and faculty. Offering both undergraduate and co-educational graduate degree programs, the Petrie School treats music students as aspiring professionals from the moment they arrive on campus. Students have the opportunity to study music history, music theory, music composition, music education among other music programs.
Spelman College
Atlanta, GA
spelman.edu
The Spelman College music department is an accredited institutional member of the National Association of Schools of Music, the accrediting body for music programs in higher education. Students can earn their Major or minor in Music.
Mount Holyoke
South Hadley, MA
mtholyoke.edu
The music major at Mount Holyoke is designed for students with a wide range of interests, backgrounds, and career goals. It is intended to provide a broad and varied acquaintance with history, theory, and literature of music as well as to develop skills in performance, analysis and synthesis.
Scripps College
Claremont, CA
scrippscollege.edu
The music program at Scripps offers students many opportunities to engage with music both intellectually and aesthetically through coursework and performance. The department offers courses in music history, music theory, and ethnomusicology.
Smith College
Northampton, MA
smith.edu/music
The Smith College Music Department is one of the largest departments in the college, with 17 faculty members who offer a broad array of courses in music history and literature, ethnomusicology, theory, composition, and performance. Particular areas of faculty interest include renaissance and baroque studies, 19th-century studies, 20th-century studies, world music, music of Southeast Asia, gender studies, criticism, and feminist studies.
Mills College
San Francisco, CA
mills.edu
The music major revolves around a core curriculum of music history, theory, and performance that provides knowledge and skills basic to all musicians. In addition, music majors select one of four areas of emphasis: performance, theory/history, composition, or composition with an emphasis in media technology or electronic music.
For a full list of National Association of Schools of Music colleges and university programs, please visit here.